Join us for our March meeting
This will be a virtual "Zoom" meeting.
You can join from the comfort and safety of your home.
When: Monday, March 8th, 7:00 pm
AAUW SLO celebrates Women's History Month with a special Zoom program on March 8th at 7pm featuring author Angelica Shirley Carpenter discussing her recent book:
BORN CRIMINAL: Matilda Joslyn Gage
Radical Suffragist
In 1893, a deputy sheriff knocked on Matilda Joslyn Gage's door in Fayetteville, New York. He had come to arrest her. "All of the crimes which I was not guilty of rushed through my mind," she wrote later, "but I failed to remember that I was a born criminal—a woman." Her crime: registering to vote. The verdict: guilty as charged.
Matilda was actually pleased to be arrested. She welcomed attention to her cause: women's rights. A famous leader in the early women's movement, she was a writer, organizer, speaker, planner, and historian. She worked closely with Susan B. Anthony and Elizabeth Cady Stanton, but today she is mostly forgotten. Matilda (1826-1898) fought for women's right to vote and more: equal pay for equal work, equality in property and child custody laws, and a woman's right to control her own body. She wrote books that are still being studied.
Angelica Shirley Carpenter is the author of several biographies and a self-proclaimed Oz nut. She is a past president of the International Wizard of Oz Club. She was Director of the Palm Springs, FL, Library and the founding curator of the Arne Nixon Center for the Study of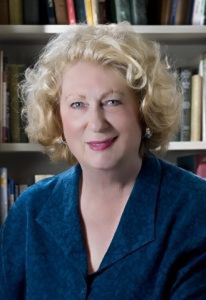 Children's Literature at California State University, Fresno. She likes to read, travel, shop, cook, watch movies, and listen to rock and roll (not all at the same time). She now lives with her husband in Fresno, California, and is a popular presenter across the country.
Look for your Evite to this timely and topical presentation. We hope you can all join us.
 The San Luis Obispo branch was organized in 1943 and has been a vital part of the community for over 75 years.
The branch was instrumental in the creation of Mission Plaza and the Art Center of San Luis Obispo.  We also initiated Art Park, a summer arts program for children, and were founding members of the SLO County Women's Legacy Fund.  We continue to sponsor candidates' and issue forums.
Today the branch consists of more than 60 women from varied backgrounds who promote the Association's goals.
Our current community actions include:
Tech Trek

:  is a math and science camp for middle school girls

Adopt-a-Poll:

 staffing a voting site during elections

San Luis Obispo High School Scholarships:

 our branch raises money to provide scholarships for college-bound high school girls.

Scholarship & Loan Committee:

 was created to assist re-entry students at Cuesta College. The Committee is a 501(c)3 charitable organization.

Support for the Educational Foundation:

Provides fellowships and grants to women for graduate study and community action

Support for Legal Advocacy Fund:

Provides support for women seeking judicial redress for sex discrimination in academia and the workplace
Friends of the Library/AAUW In-School Reading Program: Volunteers read with children in a classroom setting to provide literacy experiences that encourage, support, and celebrate children's efforts to learn to read.
Branch meetings are generally held once a month on either Monday evening or Saturday during the day at various locations around town. These monthly programs provide opportunities for members to discuss and learn about critical issues affecting women and the community.  For more details on upcoming programs please see the programs page. All meetings are open to the public. If you would like to talk to a branch representative before attending a meeting, please feel free to contact us.
We also have a variety of special interest groups you may enjoy.  These include two bridge groups, two book clubs, craft group, hiking, and dining out.  Please join us!
Like us on Facebook    

Follow us on Twitter @AAUWSLO