Join us for our November meeting!
                                              Monday, November 8th at 7:00 pm, via Zoom

With COVID numbers still a concern, we want to exercise an abundance of caution and have decided that we will be meeting virtually on Monday November 8th at 7:00 pm.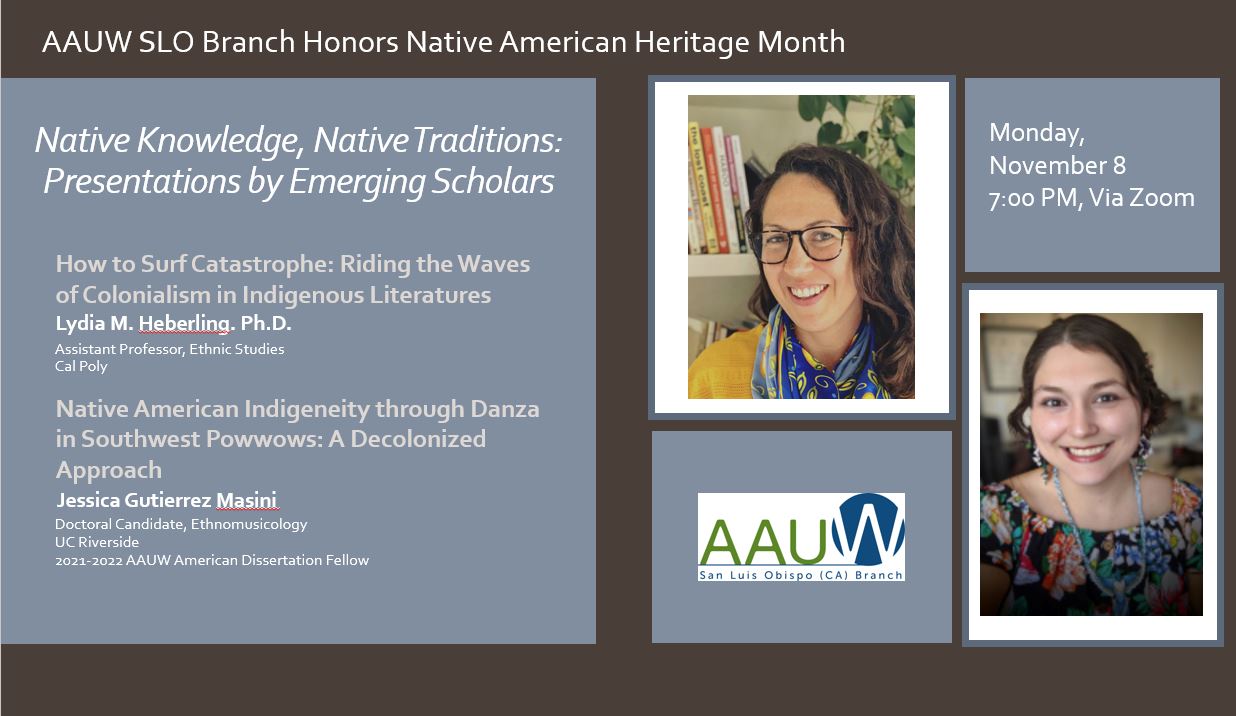 In honor of Native American Heritage Month, we are fortunate to be able to host two emerging scholars whose research is in the area of indigenous studies.
Lydia M. Heberling. Ph.D., a new Assistant Professor in the Department of Ethnic Studies at Cal Poly, will present "How to Surf Catastrophe: Riding the Waves of Colonialism in Indigenous Literatures." Professor Heberling earned her doctorate in English from the University of Washington. Her area of expertise is in American Indian literatures with a special focus on California's indigenous literatures.
Jessica Gutierrez Masini, is a doctoral candidate in Ethnomusicology at UC Riverside and a 2021-2022 AAUW American Dissertation Fellow. She will present on "Native American Indigeneity through Danza in Southwest Powwows: A Decolonized Approach." Her AAUW Fellow bio states, "[t]hrough personal presence, critical pedagogy and scholarship, she dedicates herself to indigenous self-determination and equal accessibility and equity in education."
This is a unique opportunity for our members and guests to "go back to college" to learn about topics that were not often studied or presented in our college experiences. In addition, we will gain an appreciation for the ways that native knowledge is present in and impacts the here and now.
Please join us on Monday, November 8 at 7 pm via Zoom to hear about their fascinating research and to support these scholars as they start their careers. We hope that there will be a great turn out at this special event.
And others are welcome at this and other branch member meetings, so please feel free to invite your friends! Watch for the Zoom information as the date draws nearer!
Our AAUW Branch has been part of the community for over 75 years.
The branch was instrumental in the creation of Mission Plaza and the Art Center of San Luis Obispo.  We also initiated Art Park, a summer arts program for children, and were founding members of the SLO County Women's Legacy Fund.  We continue to sponsor candidates' and issue forums.
Today the branch consists of more than 60 women from varied backgrounds who promote the Association's goals.
Our current community actions include:
Tech Trek

:  is a math and science camp for middle school girls

Adopt-a-Poll:

 staffing a voting site during elections

San Luis Obispo High School Scholarships:

 our branch raises money to provide scholarships for college-bound high school girls.

Scholarship & Loan Committee:

 was created to assist re-entry students at Cuesta College. The Committee is a 501(c)3 charitable organization.

Support for the Educational Foundation:

Provides fellowships and grants to women for graduate study and community action

Support for Legal Advocacy Fund:

Provides support for women seeking judicial redress for sex discrimination in academia and the workplace
Friends of the Library/AAUW In-School Reading Program: Volunteers read with children in a classroom setting to provide literacy experiences that encourage, support, and celebrate children's efforts to learn to read.
Branch meetings are generally held once a month on either Monday evening or Saturday during the day at various locations around town. These monthly programs provide opportunities for members to discuss and learn about critical issues affecting women and the community.  For more details on upcoming programs please see the programs page. All meetings are open to the public. If you would like to talk to a branch representative before attending a meeting, please feel free to contact us.
We also have a variety of special interest groups you may enjoy.  These include two bridge groups, two book clubs, craft group, hiking, and dining out.  Please join us!
Like us on Facebook    

Follow us on Twitter @AAUWSLO